Aomway WDR 16:9/4:3 700TVL V2 2.1mm 1/3'' HD Color CMOS FPV Camera NTSC/PAL Swit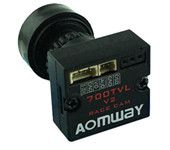 | | |
| --- | --- |
| Part No.: | 700-V2 |
| Manufacturer: | Aomway |
Send to a friend
Features
1.OSD menu can be adjusted.
2.Handle adjustment. (handle to right key length, press 5S to adjust reference voltage).
3.Menu system adjustable NTSC/PAL.
4.Equipped with 2.1 and 2 million HD lenses.
5.Equipped with universal fixed support.
6.The 8. picture shows the name, voltage, boot time (up and down, move and turn off).
7.The menu to adjust the screen image. (360 degree turn over).
8.Menu display ratio 16:9/4:3
9.Wide dynamic range.
10.Menu can be adjusted as follows:
A. brightness adjustment and so on.
B. voltage, name, boot time, up and down movement, turn on and off, etc.
C. images are black and color adjustable (night and day switching).
D. exposure adjustment..
E. language adjustment..
F. backlight regulation (bright light processing).
G. image display proportional switch 16:9 /4:3.
H. other side functions and so on.
11.Plastic shell is lighter, the bracket can be fixed up and down.
12.Equipped with a 2p OSD control extension line, easy to install after adjusting parameters.
Product Details
Resolution:WDR 700TVL
Pick up device: 1/3''CMOS
Lens:2.1mm installed
FOV:150 degree
Singal system: PAL/NTSC
Pixel size: 5um x 6.2um
Picture elements: 976(H)x592(V)
Effective image area:4.880mm x 3.670mm
Sebsitivity:10.8[V/Lux.sec]
Scanning system: 2:1 interlace
Sync system: Internal
S/N ration>more than 65dB
Gain control:Auto
White balance:Auto
Video output:1.0Vp-p(75ΩBNC)
Power supply:DC4.8-36V
Power consumption:12V 50mA
Operating temperature:-10 to 60℃
Dimensions:22x20mm
Weight:11g

Item Packing
1 x 700TVL V2 FPV Camera
1 x JST Cable
1 x OSD Extension Cable
1 x Hand shank
1 x Mount
Detailed Images