ZHIYUN Weebill LAB 3-Axis Image Transmission Stabilizer for Mirrorless Camera OLED Display Handheld Gimbal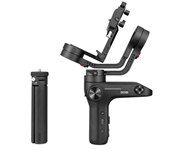 | | |
| --- | --- |
| Part No.: | QA-WeebillLAB |
| Manufacturer: | Zhiyun |
Send to a friend
Features
Description:

The Zhiyun WEEBILL LAB Handheld Stabilizer for Mirrorless Cameras supports cameras weighing up to 6.6 pounds. It features a removable hand-held tripod which can be mounted on the battery bin as a grip, providing additional functionality, as opposed to crowding all the controls on the primary handgrip. The gimbal has a nominal runtime of ten hours and requires two 18650 batteries. It is built using aviation-grade motors. The WEEBILL LAB allows you to connect and control select cameras via an included cable, and supports wireless transmission of the camera's video via Wi-Fi. Control over the gimbal and camera is by the ViaTouch Control System.

The gimbal features pan follow, full follow, locking mode, PhoneGo mode, Vortex mode, and POV mode. An included lens support is useful when working with long lenses, and an external follow focus motor (not included) for pulling focus on manual lenses. A downloadable app allows you to fine tune and control the gimbal wirelessly. The included removable tripod holds the gimbal upright while balancing and folds to become an extension to the main handle.


Features:

1. Light and compact, only A4 size after folding
WEEBILL LAB reduces 50% in volume and increases 80% in motor power and one-fold in respond speed respectively. The light, compact body is portable for you to shoot and carry around.
2. Great Compatibility, Load Capacity up to 6.6 lb.
Weight like a phone stabilizer but can handle a large payload of 6.6 lb., compatible with most popular mirrorless camera & lens combos on the market, which can directly make parameters settings through the stabilizer as a real time-saver.
3. Versatile and ergonomic structure.
The WEEBILL LAB is a configurable gimbal platform that works well when held in either standard or underslung position. You can either hold it upright or enter a handy underslung position by mounting the tripod as a handgrip.
4. Manfrotto/ Arca-Swiss Double-Quick Release Plates
It features both Arca-Swiss and Manfrotto compatible quick release plates that allows easy setup and fast transition between equipment without re-balancing.
5. Crafted Latch Design
Its crafted latch design simplifies both balancing and setup. You can lock certain axes while balancing the other and save the current setup for next time. It's a versatile equipment for run-and-gun filmmakers to carry around and start instant shooting anywhere anytime.
6. Wireless Image Transmission
The wireless image transmission system is compatible with mobile devices running iOS or Android, which supports real-time monitor, framing and parameter control over your camera. For its great compatibility with smart phones and tablets, most digital devices around you can be readily used as a monitor. With live preview and real-time parameter settings, you can frame and take shots from any angle at any view.
7. ViaTouch Control System
The ViaTouch Control System enables using your phone screen to make gimbal movements and adjust camera settings, all while framing the shot. ViaTouch Control System enables users to take care of every detail simply on a phone screen. You can make various gimbal movements and camera settings while framing the shots simultaneously all via a same screen. Filming on a camera would just be as easy as filming on a phone.
8. Motion Sensor Control
Motion sensor control allows you to control the gimbal by simply moving your mobile device. You no longer need a dedicated remote control. WEEBILL LAB allows a direct connection to your phone and turns it into a motion sensor controller from a monitor. By simply moving your phone, you are controlling the gimbal in real time.
9. Automated Advanced Features
WEEBILL LAB supports various advanced features via ZY PLAY such as timelapse, panorama, focus timelapse, motion timelapse, long exposure timelapse etc.
10. Synchronous Zoom & Focus Control
The external follow focus motor equipped to WEEBILL LAB supports precise and smooth focus control to all camera systems. With the tactile wheel on its body, you can easily pull focus while moving and shooting.
11. PhoneGo Mode to Unleash Full Potential
A single tap on the Go button, your camera is ready to handle extreme sport scene. The PhoneGo mode empowers the gimbal to its maximum follow speed and helps to capture the object wanted precisely. In-camera scene transition can be easily achieved within seconds.
12. 10 hours Continuous Runtime
Fitted with 2 Standard 18650 batteries, it secures continuous filming of up to 10 hours on a single charge. It allows direct charging to the camera while shooting, giving you constant support for longtime task.
13. Intuitive OLED Display
The intuitive interface design helps you easily identify the connection status, battery level, control mode and multiple camera parameters, giving you full control over every detail.
14. Improved Stabilization
Backed by the 7th Instune Algorithm System with a load of up to 3kg, WEEBILL is compatible with the most popular mirrorless camera & lens combos on the market.
15. ZY Ecosystem
With three external screw ports, WEEBILL LAB fits a wider range of accessories in Zhiyun's Ecosystem, allowing more flexibility and creativity.
16. Full Set of Accessories
Mobile phone clamp, wireless motion sensor control, and extended monopod can meet shooting demand of different scenes. Trans mount shoulder bracket can free your hands to shoot with ease. Monopod makes swing shot available when paired with ViaTouch.
Product Details
Gimbal
Product name: Zhiyun WEEBILL LAB
Weight: 970g
Valid Payload: Min: 300g (0.66 lb.) Max: 3000g (6.6 lb.)
Camera charging: Can be charged with Micro USB
Operation Voltage: 6.4V~8.4V
Operation Current: 250mA~3000mA
Power Output Voltage: 5V
Power Output Current: 500mA
Operation Temperature: Min: -10° Standard: 25° Max: 45°
Following Deviation in Static State: Min: ±0.01° Max: ±0.04°
Following Deviation in Motion State: Min: ±0.05° Standard: ±0.1° Max: ±0.3°
Tilt Mechanical Range: Standard: 360 ° (Unlimited rotation)
Roll Mechanical Range: Standard: 360 ° (Unlimited rotation)
Pan Mechanical Range: Standard: 360 ° (Unlimited rotation)
Battery
Type: Li-ion
Model: 18650
Capacity: 2600mAh
Battery Runtime: 10h
Charging Time:2.5h
Item Packing
1 x Weebill LAB Stabilizer
1 x Mini tripod

Detailed Images