RFD900A 915Mhz 3DR Radio Telemetry Modem Module UAV 40KM Ultra Long Range Data Link Transmission for PIX APM RC Drone Airplane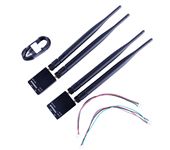 | | |
| --- | --- |
| Part No.: | RFD900A |
| Manufacturer: | Feixiang |
Send to a friend
Features
RFD900A is a compact wireless data transmission module with excellent performance.The main features are:
1. No distinction between transceiver design, each module is integrated with USB serial chip, USB and UART interface automatic switching, USB priority.
2. Working frequency range 902-928 MHz, ISM band.
3. The transmitter circuit is designed with a low noise amplifier larger than 20DB and a low pass filter unit is added.
4. Adjustable transmitting power, maximum 1W.
5. Acoustic meter filter is used to filter spurious signal in receiving circuit.
6. Outdoor communication distance can reach 40 km or more in straight line and 500 M-1 km in indoor distance.
7. Air data rates can reach up to 250 Kbps.
8. Dual Antenna interface, supporting antenna diversity, differential antenna configuration.
9. Support AT command configuration for local radio station and RT command configuration for remote radio station.
10. It has the function of module temperature monitoring and adjusts automatically according to the duty cycle of temperature to avoid overheating.
11. CNC metal shell is conducive to module heat dissipation and more stability.
12. The plug with lock is not easy to fall off.
Product Details
Model: RFD900A
Communication rate: 4,8,16,19,24,32,48,64,96,128,192 and 250 kbps.
Transmitting power: 0 to 30 dBm, 1 dBm stepping adjustable.
Power supply voltage rated 5V minimum 4V maximum 5.5V;
Emission current: 1A (maximum power mode);
Acceptance current: 60 mA;
Working temperature: - 40 to + 85 degrees Celsius;
Dimensions: 32.5 mm * 53 mm * 9.5 mm
Weight: 23g
Item Packing
RDF900A main modules x 2
5DB SMA internal pin antennas x 4
USB line x 1
UART connector line x 2
Detailed Images