Engines & Fuel System Accessories > Product details
Rcexl Electronic ignition signal tester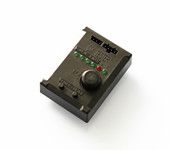 | | |
| --- | --- |
| Part No.: | RCEXL-DHQ |
| Manufacturer: | Feixiang |
Send to a friend
Features
In the promotion of science and technology, analog electronic ignition tester of a single function can not meet user requirements to. So the CDI produced TESTER tester. This tester has the advantages of simple structure, easy to operate. Small volume, easy to carry, is an essential instrument for the game player.
The tester uses the advanced Harvard structure with 10 ADC CPU. By pressing the SELECT button to test single cylinder, double cylinder, cylinder V, 3W (double magnet), star type multi cylinder (3, 5, 7, 9) of the electronic igniter.
Panel and operation instructions
The panel tester is very simple. With only two keys SELECT and RESER, a RPM knob. Six state indicator lights (S/TWIM, 3W, V, MULTI, N, S,). Signal sensor interface for two ignition devices.
The operation is simple; the Recxl ignition sensor connector insertion corresponding socket (single and double cylinder ignition device is inserted into the 3 eye socket, other igniter inserted into the 4 hole Jack). Press the SELECT button, indicator lights on the corresponding indicator (such as double cylinder ignition S/TWIN indicator lights). Adjusting the RPM knob can change the ignition frequency of the ignition.
Product Details
The power supply from the tester (Recxl) sensor interface end ignition power supply power supply unit. (voltage not more than 5.5V)
Specification sheet:
Voltage: 5V
Length: 54mm
Width: 40mm
Height: 24mm
Weight: 24.6g
Item Packing
-Rcexl Electronic ignition signal tester X 1
Detailed Images