Hobbywing XRotor Micro BLHeli-S 30A for competition FPV drone(s).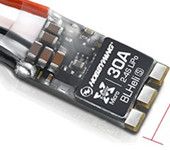 | | |
| --- | --- |
| Part No.: | XRT30A-S |
| Manufacturer: | Hobbywing |
Send to a friend
Features
Super Small & Light
With the remarkably small size (23.8x14.5x5.8mm) and light weight (6g),
XRotor Micro BLHeli-S 30A is an ESC specially designed for competition FPV drone(s).
The use of EMF8BB21F16G MCU (with the operating frequency of up to 48MHz),
3-in-1 drive IC, American Fairchild MOSFETs, imported quality ceramic
capacitors, 3-ounce copper and 4 layers of PCBs guarantees less heat, higher
efficiency and rapider response.
BLHeli-S Firmware Ready
The ESC supports the original BLHeli_S firmware. Users can flash or upgrade the firmware via the
signal cable (on ESC) and program 4 ESCs simultaneously after connecting their flight controller to the
BLHeliSuite software (if the flight controller uses the CleanFlight or betaflight firmware).
Hardware Generated PWM & Damped Light Mode
The ESC firmware uses hardware generated motor pwm for smooth throttle response and
silent operation. Damped light does regenerative braking, causing very fast motor retardation,
and it inherently also does active freewheeling
The twisted-pair throttle signal cable effectively reduces interference produced in signal
transmission and makes the flight much more stable and reliable
Product Details
Cont./Peak Current:30A/40A
LiPo Cells:2-4S LiPo
BEC Output:NO
Input Wires:Red-18AWG-100mm*1 / Black-18AWG-100mm*1
Output Wires:No wires but solder tabs
Input Connectors:No
Output Connectors:No
(Note: All the wire length above is the original length not the length you see from the outside.)
Firmware:BLHeli-S A-H-50 16.3
ESC Programming:Stick Programming,BLHeliSuite
Stick Programming:Supported
DEO:Supported
Throttle Range Calibration:Supported
Oneshot125 Mode:Supported
Oneshot42 Mode:Supported
MultiShot Mode:Supported
Timing:Supported
Motor Rotatio:Supported
Size;23.8x14.5x5.8mm
Weight;6g
Applications;150-280mm FPVs
Item Packing
XROTor Micro BLHeli-S 30A X 1
Detailed Images