Makeblock mbot Ranger Upgraded Digital Tube V1.1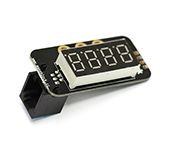 | | |
| --- | --- |
| Part No.: | MB-RUDT |
| Manufacturer: | Makeblock |
Send to a friend
Features
The digital tube module uses four-bit common-anode digital tube for displaying numbers and a few special characters. This module can be used in robot projects to display the values of speed, time, fraction, temperature, distance and other sensors. At the same time, Makeblock provides an easy-to-program Aduino library, enabling users to easily control digital tubes. The interface of this module is a blue color label, indicating that it is controlled by double digital ports. It needs to be connected to the motherboard with a blue label interface.
The white area of the module is the reference area in contact with the metal beam.
L 4-bit red LED, each with a decimal point;
The brightness can be adjusted so that users can see the display content clearly even in the daytime.
L has reverse connection protection, power supply reverse connection will not damage IC;
L Supports Arduino IDE programming and provides runtime to simplify programming.
Support mBlock graphical programming, suitable for all age users;
Convenient connection with RJ25 interface;
Modular installation, compatible with Lego series;
L is equipped with CLK, DIO, VCC, GND connectors to support the vast majority of Arduino series master boards.
Product Details
Working voltage: 5V DC
Number of digits: 4
L Working temperature: - 40 to 85 C
L Control Mode: Double Digital Control
L Module size: 51 x 24 x 23.4 mm (long x wide x high)
Item Packing
Makeblock mbot Ranger Upgraded Digital Tube V1.1 X 1
Detailed Images