Walkera F210 4-Axis Racing Quadcopter Drone with Motor Flight Controller with DEVO7 radio/Camera/OSD/Battery/Charger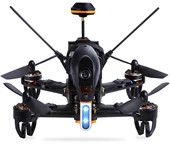 | | |
| --- | --- |
| Part No.: | F210 |
| Manufacturer: | Walkera |
Send to a friend
Features
Incomparable advantages, exceed your expectation
Bow and streamlined design, combined with the physical mechanics, its four wheelbases are equal. The center of gravity moves to the central point,
makes flight agiler, more reliable and stable. The racer Body is made of carbon fiber materials, plus a protective cover motor design, all makes the F210 solid and anti-crash and its flight speed comparable to F1 racing .

Standard equidistant axis design
Standard axis equidistant design, independent research and development. Better agility and flexibility, faster and easier to fly.

Demanding flight support
With Brushless motor plus guard landing cushion frame design , the F210 passed various rigorous reliability tests, Including drop test , crash test bending resistance test , high and low temperature test and humidity test , etc. Which guarantee the racer's high quality and safe flight.
Modular design to break stereotypes
A combination of different modules, enclosed modular design, F 210 is safe, and anti-crash, easy to install and disassemble. With the latest F3flight system, the professional speed controller and 5.8G image transmission, the players set the speed freely according to their needs. By selecting and combining modules, the player can DIY the F210 to different products, which can need the different demands of various players
Personalized setting
Players can set the flight control parameters according to their needs. The F3 flight controller, provide a platform for the experts from worldwide to exchange ideas.

Mushroom antenna
Ultra-long transmission range, real-time obtain the flight status and flight data, transmission distance over 800 meters, even in the FPV flight, the screen effect is very smooth

Anti-collision and ruggedness
The bow design, Based on anti-collision and anti-drop mechanics, reduce the impact of surface damage to a minimum, ensure the safety of normal flight
Night Vision HD Camera
The camera has one million pixels, high-definition night vision lens and high-performance sensors, its photosensitive sensors can automatically adjust according to the brightness of light. When in dark places, the chip can easily switch to infrared surveillance mode to ensure the aircraft traverse normally. There is no restriction to the light, so the players can fly the racer at daytime or at night.

Freely adjustable angle
In manual mode, the player can freely adjust the angle of the camera according to their needs. It is easy and convenient

120° super vision lenses, clear and bright picture quality
In pursuit of larger vision and clearer pictures, we adopt night vision camera lens which has a large view, its framing angle up to 120 °, and more images in visual. So in the big scenes and special expressiveness angle the camera will give you strong visual impact, and make the flight more passionate.

DEVO7 remote control
Classic outer design, more humane control design. Adopting 2.4Hz direct sequence spread spectrum technology (DSSS), the Devo 7can match frequency and assign ID automatically. The devo7has wireless copy function, The player can set his own fixed
Product Details
- Main Rotor Dia: 128mm
- Overall (L x W x H): 182x182x103mm
- Weight: 370g(Battery included)
- Receiver: DEVO-RX713
- Main Controller: FCS-F210(F3)
- Transmitter: TX5825(FCC)/TX5824(CE)
- Brushless Motor: WK-WS-28-014A(CW/CCW)KV2500
- Brushless ESC: F210(CW/CCW)
- Battery: 14.8V 1300mAh 40C 4S Li-PO
- Flight Time: 8~9mins
- Working environment: -10℃ ~ +40℃
TX5825(FCC)/TX5824(CE) transmitter
- 5.8G wireless image transmission
- TX5825(FCC) Bind B section: 4 channels
- TX5824(CE) Bind B section: 8 channels
- TX5825(FCC) output power: ≤200mW
- TX5824(CE) output power: ≤25mW
Camera Specification:
- Horizontal Resolution: 700TVL
- System Commitee: PAL/NTSC
- Video Out: 1.0Vp-p/75Ω
- Power Input: DC 12V
Package included:
Item Packing
- 1* F210 quadocpter (includes DEVO7 radio/Camera/OSD/Battery/Charger)
Detailed Images