Rc Tool 3S 12V Hot Melt Glue Gun With XT60 Plug For RC Models Heater Heating Wax 7mm Glue Stick DIY Hand Tools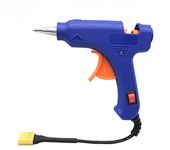 | | |
| --- | --- |
| Part No.: | AT-203 |
| Manufacturer: | Feixiang |
Send to a friend
Features
Low-pressure glue gun, special for airplane model, field glue gun, T plug and XT60 plugs are available, heat conduction is fast and the glue is smooth and continuous.
Note on leakage of glue gun:
1. Because the glue is squeezed out by pushing the trigger to increase the internal pressure, when the glue is just finished, the internal pressure is not released completely. Because of inertia, even if you don't use the glue gun at this time, the glue will leak out a little until the internal pressure is released completely;
2. As for the amount of leakage after gluing, it is related to the grade of glue gun, power and melting point of glue strip, as well as the force and time of pulling the plate machine. Therefore, we should release the plate machine in advance according to the amount of glue that may continue to flow out, and select the appropriate force to buckle the plate machine according to the amount of glue needed to achieve the purpose of glue saving;
3. When the glue is not applied for a long time, the glue will melt back slightly due to the heat, and the volume inside the gun chamber will increase slightly, so the glue may flow out a little bit.
4. Methods of saving glue:
A: When the amount of glue used at a time is not very large, it is lighter to use the plate machine. When the amount of glue used is large, it is heavier,
B: With high-grade glue gun, it can save energy and glue.
Product Details
Size: 11*11*2.7CM
Application: 3S power battery
Voltage: 12V
Applicable glue stick: glue stick with a diameter of 7MM
Product features: it is suitable for the installation of model aircraft, which is convenient and practical. Necessary products for model aircraft
Item Packing
TX60 plug glue gun x 1
Detailed Images