SUPER500 High Torque Metal Servo 500kg.cm 0.5S/60 Degree BEC 5V for DIY Large Robot Arm Parts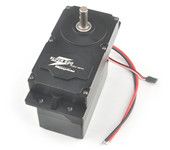 | | |
| --- | --- |
| Part No.: | SUPER500 |
| Manufacturer: | happymodel |
Send to a friend
Features
SUPER200 300 High Torque Metal Servo
Namely 1cm long lever can lift 200kg (300kg) weight! Real high torque servo!!
High torque servos actually have a wide range of applications, different kinds of manipulators, gimbals, drones, AI equipment, industrial control etc.
This high torque servo is structurally designed with steel gear, 540 motor, CNC aluminum alloy shell with antiflaming ABS shell, and some extent waterproof. The servo is equipped with servo plate.
The servo adopts digital circuit, so it responds fast, stroke(travel) is long, and compatible perfectly with many remote controlling systems in market.
Product Details
Support PWM pulse 1-2MS signal control that is standard servo control signal, Analog voltage signal control 0-5V, with normal servo function, and with 360 degree operating modes selectable , you can control the speed of servo
The servo build in BEC 5V output, you can direct power to the receiver.
Parameter:
Power input: 12V-24V DC (V- connects with the cathode, V+ connectselectable operating modes, you can control the speed of servo speed.s with the anode)
No load current: <500MA
Maximum torque: 200KG.CM / 300KG.CM (24V) (actual, non theoretical value)
Angular velocity: 0.5S/60 degrees (60 degrees 0.5S), 24V
The rotation angle: 300 degrees MAX, mean maximum stroke of 300 degrees (0 to 300 degrees adjustable electronic limit)
Input mode: pulse signal (remote control, multi-channel servo controller, MCU) or analog voltage signal (potentiometer)
Pulse signal input range: 1.0ms-2.0ms
Analog voltage signal input range: 0V to +5V
Control and interface description:
Motor output (M+, M-): M- negative motor, M+ connected to the positive electrode
Motor speed adjustment input (LD): used to control the steering angle speed of the steering gear.
Angle adjusting input (XC): used to control the steering angle range.
Mode selection (VR): short circuit for pulse signal PWM 1-2MS input, short circuit to analog voltage signal input 0-5V; input default PWM
The steering mode (360): nonshorting for normal steering, short circuited 360 degree rudder; default normal steering gear
Analog control mode (5V-VR-GND): the angle of the input signal is analog, can use potentiometer to control the motor output shaft angle position.
Digital control mode (PW-5V-GND): the input signal is a digital Fang Bo signal, pulse width in 1ms-2ms.
Mode selection:
short circuit is analog voltage signal 0-5V input, if not short circuit, is pulse signal PWM 1-2ms input; the default input is PWM input.
Servo mode:
if short circuit, is 360degree servo; if not short-circuit, is normal servo; the default mode is normal servo.
Analog control mode (5V-VR-GND):
angle input signal is analog, motor output shaft angle can be controlled with potentiometer.
Digital control mode (PW-5V-GND):
input signal is square wave signal with pulse width 1ms-2ms.
Item Packing
SUPER500 servo x 1
metal servo plate x 1
Detailed Images