Hobbywing EZRUN MAX4 HV 300A Sensored Brushless ESC Waterproof Speed Controller for 1/5 Off-road Trucks RC Car Parts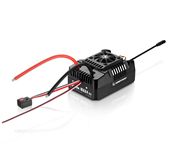 | | |
| --- | --- |
| Part No.: | EZRUN-MAX4-HV |
| Manufacturer: | Hobbywing |
Send to a friend
Features
- Sensored mode,Flexible、Retract freely
The Max4 HV ESC is the most sought-after ESC on the market. It's dynamic and dominant specifications meets the needs of power-hungry users. It has a strong output power with excellent linearity at low speed and is operating on full-sensored mode.
- Extremely powerful and extremely low temperature
The internal circuitry board of the ESC has been integrated to use copper thermal conduction sink. These are built into high-reliability thermal systems to ensure that it is always in good thermal condition while supplying a maximum output current of 300A.
- Applicable to All Weather Track Conditions
The IP-67 waterproof system guarantees excellent waterproofing and dustproofing protection. The whole power system is able to drive on a variety of surfaces including muddy, sandy, icy, snowy and water without damaging the power unit.
- Superior Built-in BEC
The ESC has a built-in BEC which can support a maximum output current of up to 25A and the output voltages are switchable between 6V, 7.4V and 8.4V. This ensures that the ESC is able to support the demanding high-torque servos in the market.

Product Details
Product Name:EZRUN MAX4 HV
Product Number:30104002
Type:1/5th Scale
Brushed/Brushless:BL
Sensored/Sensorless:SD
Waterproof:WP
Specifications
- Cont./Peak Current:300A/2000A
- Input Voltage:6-12S Lipo
- BEC Output:6V / 7.4V / 8.4V adjustable, continuous current 10A (Switch-mode)
Wires & Connectors
- Input Wires:Red-8AWG-200mm*1/Black-8AWG-200mm*1
Output Wires
- Input Connectors:No
- Output Connectors:8.0mm Gold (female)
(Note: All the wire length above is the original length not the length you see from the outside.)
Fan
- Size:50x50x15mm
- Voltage Range:6-8.4V
- Powered by:Powered by BEC
ESC Programing via
- SET Button on ESC:Not Supported
- LED Program Box:Supported
- LCD Program Box:Supported
- WiFi Module:Supported
- OTA Programmer:Supported
- Program Port:FAN/Program Port
Firmware
- Firmware Upgrade:Supported
Size & Weight
- Size:125mmx85mmx61.7mm
- Weight:775.4g
Applications
- Motors:Sensored brushless motors / Sensorless brushless motors
- Vehicles:1/5th off-road, trucks (heavy loads)
- KV Rating/T Count:12S LiPo: KV ≤ 600KV(70125 Size Motors)
Item Packing
EZRUN MAX4 HV 300A ESC x 1
Detailed Images