Hobbywing XeRun XR10 PRO STOCK SPEC 30112401 80A 2s brushless sensored ESC for 1/10 RC racing cars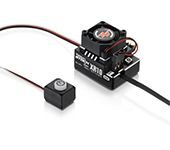 | | |
| --- | --- |
| Part No.: | XR10PRO-STOCK-80A |
| Manufacturer: | Hobbywing |
Send to a friend
Features
• 5 select-to-use profiles including zero-timing/blinky mode, stock mode particularly applicable to the Stock class of 1/10th touring car and buggy racing.
• Innovative double-switch design (a built-in electronic switch & an external detachable switch), the external switch is really handy when the car shell is installed on and the internal switch
is no longer touchable.
• Built-in switch mode BEC with a maximum output of 6A and voltage adjustable between 6V and 7.4V for usage with high voltage servos.
• Small size makes the installation convenient, light weight of 28g (w/o wires) provides more weight margin when adjusting the balance of the chassis.
• Separate PRG/FAN port is able to power an external fan for maximize cooling performance or connect a LCD program box or WiFi module to the ESC.
• With the New WIFI express module from Hobbywing, users are able to program parameters, upgrade firmware and check relevant data during the event using either the iPhone or
Android devices.
• New brakes and throttle functions: 100 levels of brag brake, 50 levels of initial brake force, 9 levels of maximum brake force, 20 levels of brake rate, and 30 levels of throttle rate.
• Adjustable brake mode, PWM and brake frequencies for different competitions and control feel.
• Adjustable Turbo Timing & Boost Timing for different applications.
• Softening function (HOBBYWING-initiated) for milder or wilder driving control and better driving efficiency.
• Multiple protections: low-voltage cutoff protection, ESC and motor thermal protection, and fail safe (throttle signal loss protection).
• Data logging for recording the maximum ESC/motor temperature, motor speed/RPM, and others in real time.
• Firmware upgrade via Hobbywing multifunction LCD program box or WiFi Express (item sold separately).

Product Details
Cont. / Peak Current:80A / 380A
Motor Type:Sensored / Sensorless Brushless Motors
Applications:Stock Class of 1/10th Touring Car and Buggy Racing
Motor Limit (*Note 1):Brushless Motor Limit with 2S LiPo/6S NiMH: (Touring Car) T≥10.5T, (Buggy) T≥13.5T
LiPo / NiMH Cells:2S LiPo / 6S NiMH (Only)
BEC Output:6V/7.4V Switchable, Continuous Current of 3A (Switch-mode)
Cooling Fan:Powered by the stable BEC voltage of 6V/7.4V
Connectors:Input End: No Connectors; Output End: No Connectors
Size/Weight:31.5 x 25.6 x16.1mm (w/o fan) / 54.5g (w/ wires)
Programming Port:PRG/FAN Port (*powered by the built-in BEC)
Item Packing
Hobbywing XeRun XR10 PRO STOCK SPEC 30112401 80A 2s brushless sensored ESC x 1
English Manual x 1
Detailed Images